TurboChef High h 2620 Conveyor Oven
This commercial pizza oven is great for busy restaurant owners and takeaways – it can deliver over 100 12 inch pizzas an hour!
The TurboChef High h 2620 conveyor oven is an energy efficient solution for pizza operators looking for high capacity equipment with lower energy consumption.
To get started serving delicious pizzas please fill in the quick enquiry form above the product image. One of our experts will get in touch to discuss your needs.
Machine type: Rapid Cook Impingement Conveyor oven.
Power requirements: 1x 32amp Three Phase
Dimensions: 432mm (h) x 1227mm (w) x 1059mm (d)
Counter top, stackable three high.
Programmable: 8 Menu Items
Ideal for all applications including; Cafes, Kiosks, Sandwich shops, Pizzerias, Bars, Bistros
---
*Ventless certification is for all food items except for foods classified as "fatty raw proteins". Such foods include bone-in, skin-on chicken, raw hamburger meat, raw bacon, raw sausages, steaks etc. If cooking these types of foods, it is the customers responsibility to contact their local authorities to ensure compliance with ventilation requirements.
---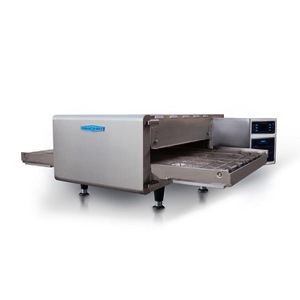 Profit Calculator
Lease Calculator
Case Study