The Taylor Crown Series of grills are an amazing piece of equipment. Having the ability to grill items twice as fast as conventional griddles by cooking from both sides at the same time is a major advantage for any food service operator whether you're a burger restaurant, fast food take away or theme park concession. Unfortunately every 'Yin' has a 'Yang' has a pay off for cooking faster and turning tables quicker is that you need to look after your release sheets!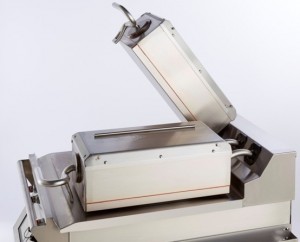 If you don't have a Taylor clamshell grill this may not mean much to you but all two sided cooking platforms require release sheets to be fitted to the upper platens to prevent your menu items from sticking when they're cooking. These's two sided, Teflon coated, sheets fit snugly to the upper platen preventing dirt and carbon build up and are an essential part of the grill ensuring consistent cooking whilst preventing excessive dirt build up, helping with cleaning.
Follow these tips to help prolong the life of your release sheets:
When should grill release sheets be changed?
Cleaning procedures fail to remove all build up and product sticks to the release sheet.

A tear appears in the cooking area of the release sheet, causing product tom stick to the release sheet.
NOTE: it is not necessary to change the release sheet if small pin holes develop on the sheet.
DO NOT:
DO NOT fold or crease the sheets.

DO NOT touch the sheets with sharp objects, grill scrapers or abrasive pads.

DO NOT place under other equipment or objects.

DO NOT hot-hose or soak in water.
DO:
DO clean with a squeegee after each cooking run of product.

DO wipe with a clean, sanitiser-soaked cloth a minimum of 4 times per hour and more often during peak periods.
DO clean daily on both sides, using an approved high temperature grill cleaner and the grill cleaning pad.

DO rinse with clean water to remove cleaner residue and allow to dry on a flat surface.

DO rotate the release sheets daily and re-install on the opposite side than previously used (black vs. brown).
If you follow these simple, common sense tips you should elongate the life of your release sheets. Should you need to replace them, please call the Taylor UK Customer Support and Service Centre on 0845 6012 312 and we'll get some sent out to you.
Taylor Clamshell Grill accessories include:
---
For more information on Taylor Clamshell Grills
call the Taylor UK Sales Office on 0800 838 896
or fill in the form at the top of the page and we'll call you back.