Conveyor Ovens
TurboChef conveyor impingement ovens are perfect for making pizzas and baked goods which need to be cooked fast for customers. Conveyor ovens are ideal in fast food environments such as takeaways, bar food and cafes. To find out more, request a free consultation or call 0800 838896.
Not sure which machine is right for you?
Call our sales team on 0800 838896
The TurboChef High h 1618 conveyor oven has all the power of the 2020 & 2620 conveyors but in a smaller foot print allowing it to go almost anywhere.
View
The TurboChef High h 2020 conveyor oven is the fastest conveyor of its size. It can cook 56 12″ fresh dough pizzas every hour. This range is great for the truly busy; you can triple output by stacking three of these pizza ovens on top of each other.
View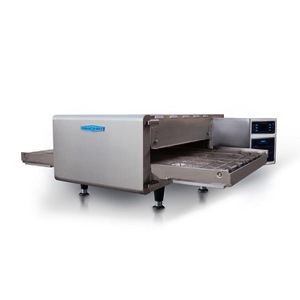 This commercial pizza oven is great for busy restaurant owners and takeaways – it can deliver over 100 12 inch pizzas an hour! The TurboChef High h 2620 conveyor oven is an energy efficient solution for pizza operators looking for high capacity equipment with lower energy consumption.
View
Not sure where to start?
Just tell us what you sell and we'll help you with the rest